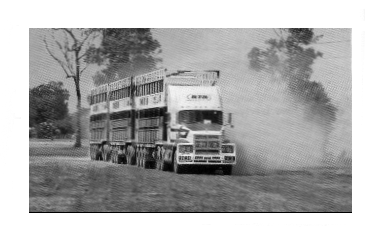 Road Trains
Road Trains are a common sight on the roads in the Northern Territory and regularly scare the wits out of tourists who can't understand why something so big could possibly be allowed onto the same road as themselves. For those of you who have never heard of, or seen a Road Train, this page may give you an insight into a strangely Australian phenomenon.
Definition
The licensing authorities term for a Road Train is "Multi-Combination" vehicle, and they define one as being a:
Prime Mover or rigid body truck towing two or more trailers, two of which are greater than 9 tonnes gross vehicle mass (GVM;
however most people call them Road Trains.
So what is a Road Train?
Well basically, a Road Train consists of a prime mover with two drive axles and a single steer axle and one semi trailer plus one or two 40ft self-tracking trailers or a rigid body truck towing two or three self-tracking trailers.
Road Trains are the most economical way to transport goods over the vast distances encountered in Australia. By towing three trailers behind a single prime mover more goods can be transported with less overheads than running three separate articulated vehicles. In some parts of Australia, because of their size, Road Trains are restricted to certain roads. In the Northern Territory however, Road Trains can go pretty well anywhere they wish (other than within the main population centres).


The image above shows a rigid body truck towing three self -tracking trailers. The total length of the rig is limited to 53.5 metres (174ft).

This image shows an Articulated vehicle plus two self-tracking vehicles, once again the total length of the rig is limited to 53.5 metres (174ft).
Gross Combination Mass (GCM)
The GCM of a vehicle indicates the combined mass of the hauling unit and trailers. Road Trains can have a GCM of up to 115 tonnes.
6 t

16.5t

20t

16.5t

20t

16.5t

20t

Gross Combination Mass = 115.5 tonnes. All are maximum permissible weights
A single steer axle maximum load is 6 tonne
A tandem axle (non-steer) maximum load is 16.5 tonne.
A tri-axle group maximum load is 20 tonne.
Other Dimensions
As previously mentioned, a triple bottom road train can measure up to 53.5 metres or 174 feet in length. Height of the vehicle must not be greater than 4.3 metres (14ft) except for cattle crates. Cattle crates are trailers with two internal decks designed to carry livestock especially cattle. Cattle crates can be up to 4.6 metres (15ft) in height. Verticle exhaust stacks cannot exceed 4.5 metres. Maximum width of vehicles, including mirrors, not to exceed 2.5 metres (8ft).
Road Train History
The earliest Road Train was developed by the British Army prior to WWII. This vehicle was an A.E.G and was hell on wheels for its driver. The radiator for the vehicle was situated more or less in the cab, just behind the driver and his off-sider. The heat and noise must have been incredible - imagine spending a few days bouncing about on dirt roads, in 40oC+ tempratures. The A.E.G. pulled up to eight trailers behind it. Often when trying to negotiate a steep hill or jump up, the trailers would have to be disconnected and taken up the hill one by one.
The development of the modern day Road Train is credited to Kurt Johansen from Alice Springs in the Northern Territory. It was Kurt who developed the concept of self-tracking trailers. Without going into the technical aspects of their design, a series of self-tracking trailers have a superior performance during cornering (swept path). It's due to self-tracking trailers that Road Trains can operate on normal roads and interact with other public road users.
The early Road Trains from the 50s and 60s were pretty basic machines with many of the prime movers being British based eg, Foden and Scammell. Very quickly after their inception, Road Trains revolutionised the transportation of cattle throughout the vast distances of the Australian outback. Prior to the introduction of Road Trains, cattle were moved hundreds, even thousands of miles, by foot in cattle drives. A cattle drive over rough land with little or no food and water resulted in stock loss and a general deterioration of stock condition during the journey. With Road Trains, hundreds of head of cattle could be moved in the space of a very short time with less loss of stock and better stock condition at journeys end. Obviously pastoralists embraced Road Trains with a vengence and almost overnight cattle drives faded away.
It wasn't long before North American manufacturers started to supply prime movers for Road Train use. Mack's, which were in great abundance in the post-war years, were soon being used to pull Road Trains throughout the territory. Kenworths, International, Whites, etc, all started to make their prescence felt in the market place. During this time, very few European manufacturers were represented in the market. Over the past few years however, European manufacturers such as Volvo, Scania and Mercedes-Benz have begun to produce vehicles capable of withstanding the demands of the Australian outback and are capable (and rated) of pulling three loaded trailers. One of the favourite prime movers, due to its reliability, power and ability to withstand atrocious conditions, was the Mack fitted with a 500hp V8 engine.
Recent changes to Australian driver licensing has seen the introduction of a licence endorsement for those drivers who take their driving test in a North American prime mover with constant mesh transmissions (crash box) and a different licence endorsement for drivers sitting their test in a European prime mover fitted with a syncromesh gearbox. Opinion has it that while a driver may be able to use a syncro box it does not automatically follow on that that driver can operate a crash box.
To be continued.