On the Water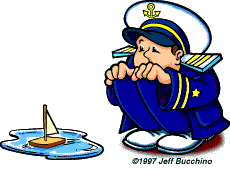 Darwin is a great place to engage in any kind of watersports. Try these.
At certain times of the year the waters in Darwin harbour can be flat as a pancake and great for skiing on. Across the other side of the harbour is Woods Inlet which is pretty well sheltered all the time and is a great place to ski (just keep an eye open for crocs). As I've already mentioned, the Ski Club regularly hosts national and international speed skiing events. If you would like to try water skiing go down to the club and talk to the manager who may be able to set you up. Just down the beach from the ski club is a Jet Ski hire business, talk to Di and she may be able to organise water skiing for you.
If you're not keen on skiing in saltwater you can go to Bardens Lakes which boasts a purpose built ski lake and is about 45 minutes from Darwin. You can hire a ski boat and driver at Bardens as well as Jet Ski hire, camping , chalets, etc.
Darwin harbour is subject to massive tidal influences which regularly mean a rise and fall of 7metres (22ft) of water over a twelve hour period. With this amount of tidal movement, visibility in the water can get very murky. Dive shops will normally suggest that you dive during the "neap's", when there is very little tidal movement. Also, diving during parts of the wet season has all the thrill of sticking your head in a bucket of sand and turning on the hot water tap in your shower. But when the vis is good, diving in Darwin is great.
When you can see clearly, there's lots to dive on in the harbour. Wrecks from several cyclones are dotted around the place as are wrecks from various ships sunk during Japanese air raids in WWII. One of my favourite dives is an upturned prawn trawler which was sunk underneath the old "Iron Ore" wharf during a cyclone. It's a great night dive and it's easy to get out to the wreck (you can swim out from the shore). The boat is lying in about 60ft of water and is covered in coral with an abundance of wildlife making their home inside the hull.
Several boats have been purposely sunk in the harbour to create artificial reefs for anglers. These also make good dive sites and normally play host to lots of fish. The "Song of Saigon", is possibly the best of these. At the far end of the harbour are several Flying boats which bit the dust during another cyclone, these can be dived on also.
There are quite a few dive shops around town, but my pick of the dive shops would be Sandpebbles Dive Shop in Stuart Park. Martin, from Sandpebbles, has been diving in Darwin for many years and he can organise training or dive trips. If you ask him nicely he may also organise a dive trip for you to Kupang in Indonesia.
During the Dry Season, on Vesty's Beach, just past the Ski Club, you'll find Di and her Jet Ski hire business. If you want to experience Jet Skiing on the harbour then Di is the person to go to. If you ask her nicely, she may even be able to organise waterskiing for you.
Fishing is one of the great pastimes of Darwinians, everywhere you go you'll see somebody chucking a line in the water. Go down to the wharf on any evening and you'll find dozens of people enjoying fish and chips from the wharf precinct while they wet a line hoping to catch a feed for the next night. There are lots of fishing charters who will take you fishing either on the harbour or further out to sea. There is some great Game fishing to be had with the Top End Billfishing Shoot Out, now well established on the Game fishing calendar. There have been some pretty spectacular sailfish caught in the seas close to Darwin.
Again, artificial reefs have been created in the sea close to Darwin in an attempt to encourage fish to congregate. These artificial reefs are well known to both locals and fishing tour operators and are well visited, however, they still produce very good catches of reef fish. Snapper, Coral Trout (my favourite), Spanish Mackerel, Salmon, Queenfish, the list goes on and on, can all be found close to town. Australia's premier table fish, the famed Barramundi, can also be found in the harbour and feeder creeks.
Away from the ocean you'll find a multitude of fishing tour operators who will take you out to the various rivers and billabongs which make up the inland river systems in the Top End. Again, Barramundi are the premier fish to catch. Barra are a great fighting fish and can grow to a pretty imposing size and they taste very nice also. There are plenty of tackle shops in Darwin and you can buy bait from almost any store or service station. There used to be a smart operator on the wharf who hired out rods and lines to tourists - but I'm not sure if that operation is still on the go. You can hire small dinghies with outboard's or twenty foot half cabin cruisers. At the top end of the scale you can also hire Game Fishing boats to try and catch the illusive sailfish.